A+ TutorSoft Math, Inc.
is a fantastic online company which offers highly interactive, multimedia math in two formats for grades 1-6, Pre-Algebra and Algebra 1.
Ava and I were given an online subscription to review A+ Interactive Math for Grade 2. They also offer a CD option.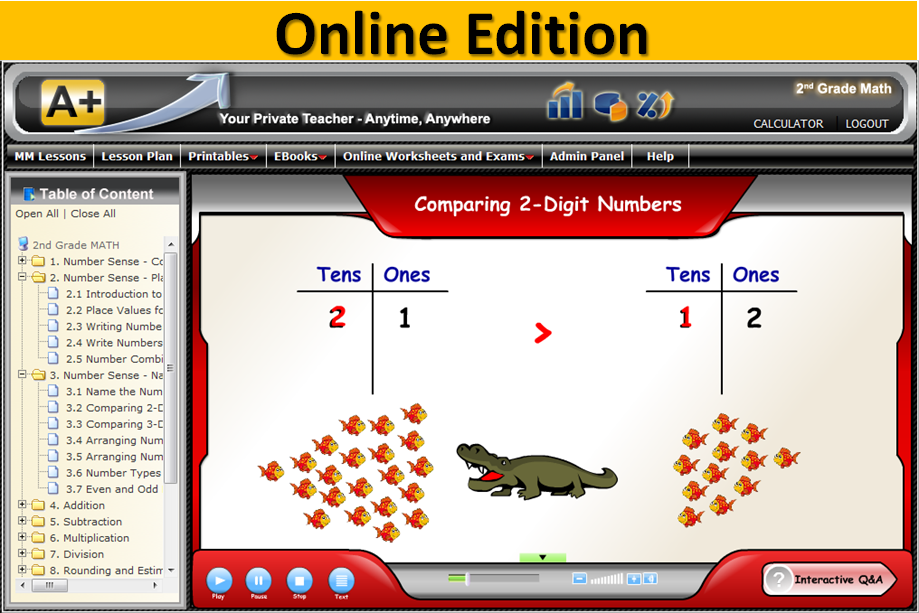 The online program is very detailed and has fun graphics. The interactive voice which teaches the lessons is pleasant. At first, I wondered if all the buttons and options on the site would be too overwhelming and confusing for her, but Ava quickly learned how to maneuver the different pages and options for lessons,
worksheets
and exams. This may be a problem for some who like a more simple layout. It was not a concern for us.
There are fifteen lesson categories in grade 2, with multiple sub-lessons. The categories include:
Number Sense
Addition
Subtraction
Multiplication
Division
Rounding & Estimating
Fractions
Tables
Charts & Graphics
Algebra
Geometry
Time
Money
Measurements
This program is to be used on a daily basis, which is how we are using it. To do a lesson, i.e. Lesson 1.3, including watching the video portion, doing the interactive Q and A, and completing the corresponding online worksheet, takes Ava about 25 minutes. At first Ava said she was bored because we started with Lesson 1 which was very basic counting. I wanted her to start there, though, to get a grasp of how the program worked. I expect more difficult material to take her a little longer as we move on to material she is unfamiliar with.
She has gone through the lessons fairly easily and looks forward to doing her math every day. She really is my first child to love math and I am thrilled to have access to this interactive program. Ava said to make sure I include how "fun" it is in this review!
What I also like about this program is that with the online version, there is automatic progress tracking. I understand that with the CD program, I would have to manually enter Ava's grades and progress, but with the online version, it is all done for me. It is so easy to click on one button and see where she is in the program, what worksheets and exams have been completed and what her overall percentage is. This allows for more independent work for Ava, too. I don't always have to sit right beside her, although I have enjoyed doing so and watching her progress.
There are also certificates of accomplishment to print for your child.
In addition, there is a tab for lesson plans that are already structured according to which lessons to do per week. If you have to document this type of information to report to your state, this would be helpful information. I am not personally looking at the lesson plans too often, as we are just going in order and working on a daily basis. According to the lesson plans, you should be able to accomplish one lesson every week or every two weeks, depending on how many sub-sections there are.
There are also printable worksheets and exams for extra practice. Of course, if using the printables, those grades would have to be manually entered by you, the teacher.
If you would like to learn more about this program, they offer a Quick Tutorial Video.
If you are unsure as to the level your child is on, there is a placement test you can have them take (with registration).

You may also register for a free one-month trial subscription. What a great way to try out this fantastic program!
To purchase:
Online Edition -
Monthly only $19.95, Quarterly only $49.99, Full Year only $124.99
CD Edition - $99.99
Right now, they are generously offering a 50% off code for my readers through the end of March! Just use the code SPOFFER50 when you check out.
If you would like to read more reviews, click on the TOS Review Crew banner below!







Disclaimer:
I received a free copy of this product through the Schoolhouse Review Crew in exchange for my honest review. I was not required to write a positive review nor was I compensated in any other way. All opinions I have expressed are my own or those of my family. I am disclosing this in accordance with the FTC Regulations.