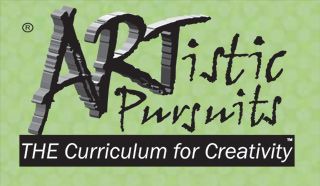 ARTistic Pursuits, The Curriculum for Creativity is a wonderful, Colorado-based company that offers products for teaching art in the homeschool setting. They have just revised and updated their 3rd edition books. They offer material for the preschool level all the way up through high school.
Benjamin and I were given the opportunity to use and review their Elementary 4-5, Book One: The Elements of Art and Composition curriculum. Several of my children had the opportunity, while living in Canada, to take art lessons from an amazing teacher (we miss you, Jody!). We haven't be able participate in any art classes since being back in The States, so we were excited to have the opportunity to use this book. This book contains 92 pages with 68 lessons. It sells for $47.95 and is written for students, age 9 and up.
The recommended scheduling for these lessons is two classes per week, one hour per class. This is a gentle approach to art and I am enjoying it very much. The first unit covered space, and we learned about "line", "value" and "form". The material covered the basic concept of space and whether to turn our paper in a horizontal position or vertical position for drawing the object at hand. As you can see in the photo above, I read the lesson to/with Ben, at times. Other times he would read on his own.
The first drawing Ben worked on was of his Airsoft gun. (I'm sorry if this offends anyone. In our home, boys have the freedom to be boys.)
The first lesson also included a short mention of the artist, Emmanuel Leutze and included his painting Crossing the Delaware. We have always enjoyed learning about different artists, so I was happy to see this included in our studies.
In the second unit, we learned about line and shape. We were encouraged to make observations of things that we encounter every day but to view them in a new way. I have to say that Benjamin is already a very, very observant person, but it was still fun to do this exercise. The featured artist was Oscar E. Berninghaus and his painting was Indian Farmer. As a cool aside, we had recently visited the National Museum of the American Indian in D. C., and Ben remembered seeing an exhibit for this artist. I love it when this kind of connection is made!
Below is one of Ben's drawings. He was to take a photo or an object and draw it, starting with the lines and then filling in the shape. The photo was a shot that he took of a swan in Canada several years ago. It's one of my favourite photos and it was quite challenging for him to draw.
These next two sketches are starters that Ben is working on of trees from the front view of our home. We are now in Unit 3 and learning about drawing texture. Ben will add to his drawings as we go along.
We are very pleased with this art curriculum and look forward to what we are going to learn next!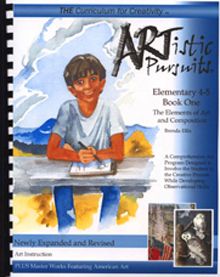 Just a note about the art supplies you will need for this particular book. Here is the list of supplies needed:
1 - metal pencil sharpener
1 - sketch pad for drawing
4 - sheets of scratch-art paper (black on white or colored background)
Units 9-10: additional supplies
1 - white colored pencil (Prismacolor)
8 - sheets black construction paper
1 - Pigma Graphic marker 1mm (pointed tip marker)
1 - Pigma Graphic marker 2mm (flat tip marker)
I did not have most of these supplies on hand and had to purchase them. I went to my local Hobby Lobby, but ARTistic Pursuits also offers the complete Art Supply Packs for purchase.
To read more reviews, click on the banner below.

Disclaimer:
I received a free copy of this product through the Schoolhouse Review Crew in exchange for my honest review. I was not required to write a positive review nor was I compensated in any other way. All opinions I have expressed are my own or those of my family. I am disclosing this in accordance with the FTC Regulations.