My Maya (age 6) has been eager to learn Spanish for a couple of years now. I've found several resources for her, but they just weren't getting us very far. She was very serious about learning this language and has asked several times. So when I had the opportunity to review See It and Say It Flip Flop Spanish from Flip Flop Learning, I knew Maya would be so excited!
I'll just start off by saying that this is a fantastic program, and Maya is thrilled with it. She came to my room to show me this just after one week of learning with Flip Flop Spanish . . .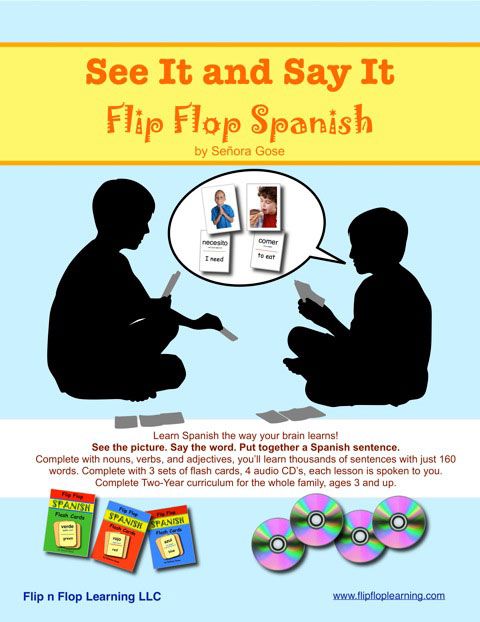 This two-year curriculum came beautifully packaged in a sturdy, pale-blue cardboard box. It contained three sets of flashcards, 4 audio CDs and notebook pages for the 45 lessons which were already hole-punched and shrink wrapped. There is also a whiteboard paddle (shown in the photo above) and marker, which comes with the set. My paddle was missing, but Señora Gose sent another one right away. This program is for ages 3-93 and is priced at $99.95.
What I love about this program is that Maya started learning conversational Spanish from Day 1. In the very first week she learned three sentences. Wow! I remember taking Spanish in high school and university, and it just wasn't this simple. This is Spanish that she can speak right away, and let me tell you, as excited as she is, she may start speaking more Spanish than English. She is already answering our every-day questions in Spanish. She has also declared 'Me gusta! Me gusta! Me gusta!' regarding this program.
It is easy to complete one lesson per week. Older children would probably be able to do more than one lesson each week.
The only "negative" aspect is that the CD lessons go a little fast for us. Since Maya is only six, she has a hard time keeping the quick pace, but it really is not much of an issue, because we continue when we are able to continue and otherwise, we just press pause and hit rewind, if necessary. It's not a big deal at all.
There are also teaching games that we plan to play once we get a little more vocabulary memorized. This program offers a wonderful way to learn for all learning styles, and we will definitely continue this curriculum with Maya throughout the remainder of this school year and the next. I am so excited that she will know another language at such a young age.




You have to love when a curriculum ends up being something that your child asks for on a daily basis. This one is a winner in my book!
And I think these are great reasons for learning Spanish that are found on the website:
Earn $10K or more per year, in any industry
Use a part of your brain that otherwise is dormant
Help your children with school
Improve logic, memory, sequencing, and wit!
Broaden your circle of friends
Enjoy travel more
Make more sales
Increase your customer base
Get a promotion
Be more involved in Missions
You can connect with Flip Flop Learning on Facebook and Twitter.
There is also an iPhone App for more vocabulary practice.
To read more TOS Review Crew reviews, click the banner below: