My review year with the TOS Review Crew is coming to a close, and this has been one of the most productive and well-liked products in our household this year. I was given a one-year membership to IXL.com for three children, a retail value of $169, in exchange for honest review. This membership includes both math practice (all grade levels) and language arts practice (only grades 2-4 for now).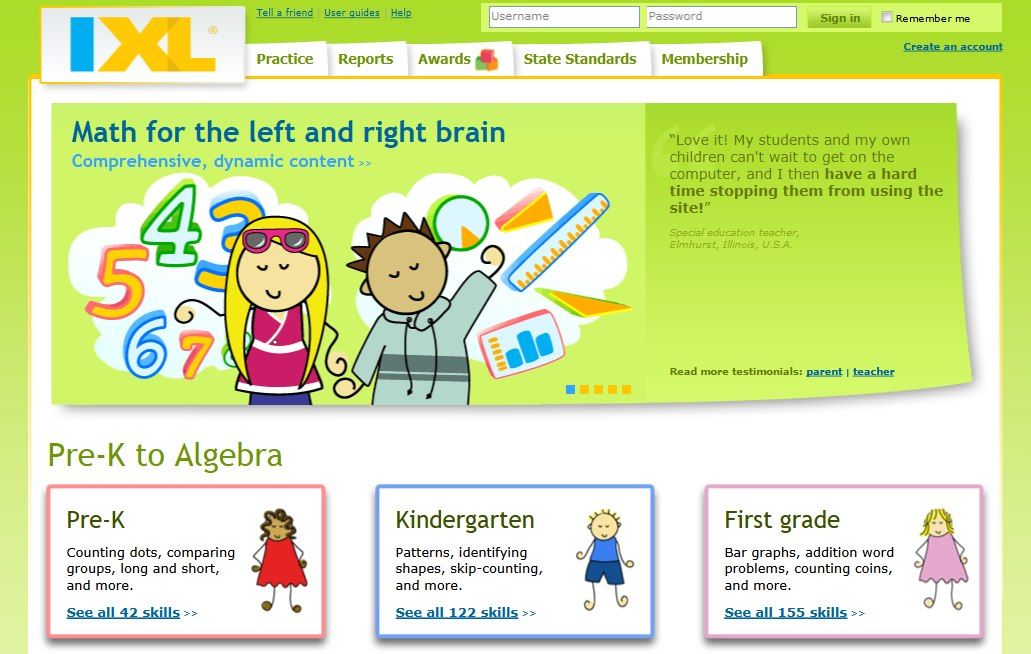 From the website:
Not only do students gain new skills on IXL—they gain a whole new appreciation for how fun learning can be! From the vibrant images that permeate IXL's skills, to the enticing awards and certificates that are hidden throughout the site, students cannot wait to hop on IXL—and you'll have trouble tearing them away.
Math and language arts are about so much more than just numbers and letters—so, IXL is too! We approach each topic from all angles, offering visual representations, listening exercises, interactive activities, and more. With an abundance of questions for every learning style, students can't help but build lasting skills and confidence.
Our experience:
My three children who are using this program are in grade 12, grade 6 and grade 3 and are using the math program only. All three of them have access to grades Pre-K through Algebra 2 (with Calculus coming soon). There are endless, endless skills for them to practice. There are 42 skills in Pre-K and between 100-300 skills in all the other levels. I just want to make clear that this is not a teaching program, so if there is a new math concept that is presented, we go to another teaching video website that we use to learn the new skill. Then that child who has learned the new concept can come back to their IXL.com account to practice those new skills. It is a fantastic program for practicing skills. The website is easy to use, and my children have never had any trouble with logging in or using the program. The graphics are colourful and lively. There are awards to win along the way, although my older children don't seem too taken with them, as I think they are a little too young-looking for them.
There are reports sent to the parent so that I can keep up with their progress. Here is an example of one email that I received:
Here is another example of the reports I can view in my parent account:
Pricing:
Monthly plan $9.95/month for math only or language arts only
Monthly plan $15.95/month for both math and language arts
Yearly plan $79/year for either math or language arts
Yearly plan $129/year for both subjects
Additional children $2/month or $20/year
Conclusion:
My children think this is a helpful program for practicing the skills they already know. They did wish there was more instruction for whenever they came to a concept they had not been taught or were fuzzy on, but they do appreciate that it is a practice website and see the value of it. We will continue utilizing this program for our school year, and I also plan to introduce Ava to the language arts section of IXL.com (as she is the only one who fits in the grade levels that are offered so far).
Many of my fellow Crew members have been reviewing IXL.com, as well. Click on the banner below to read about their experiences.