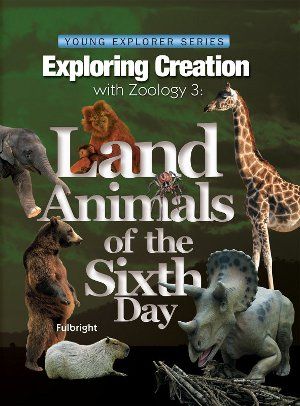 Exploring Creation with Zoology 3: Land Animals of the Sixth Day
by Jeannie Fulbright is published by
Apologia Educational Ministries, which is a Christian company that produces quality science curriculum for homeschooling families from a creationist perspective. It is written
for grades K-6. For this review, we received the
hardcover textbook
($39) and the
regular note booking journal
($24). There is also a
junior notebooking journal
for younger students ($24).
Austin and Ben have both been animals lovers since they were little tykes, so I knew they would be excited to add this curriculum to their school day. Austin is a little old for this curriculum, but I love that it is flexible and interesting enough that both he and Ben can work on it together.
We have used some of the other Exploring Creation books in the past and enjoyed them immensely, so we were very excited to receive our new books in the mail and get started. Apologia uses a Charlotte Mason approach to science, which involves reading, narration and note booking. It is a gentle and easy approach to teaching and learning, and one that I personally prefer.
The textbook is packed full of interesting facts on many different animals, their habitats, scientific classifications, Bible verses which correspond with the lessons, as well as beautiful colour photographs.
There are 14 lessons in the textbook, which include:
Introduction to the Animals of Day Six
Carnivorous Mammals
Caniforms Continued
Feliform Carnivores
Marsupials
Primarily Primates
Rodentia and the Rest
Ungulates
Order Artiodactyla
Orders Squamata and Rhynchocephalia
The Rest of the Reptiles...and Amphibians
Dinosaurs
Arthropods of the Land
Gastropods and Worms
The boys are reading the lessons on their own and then coming to narrate to me what they are learning. They take one week to read through the lessons, each of which has multiple sub-headings.
At the end of each lesson is a fun, interactive experiment for the kids to do.
Then they take one week to work through the notebooking journal.
I have to add a humorous photo that involves the buying of the supplies for the first experiment. I had forgotten to purchase the necessary candy and asked Bob to pick some up on his way home...
Here the boys are working on their first experiment which demonstrates predators and their prey, using coloured pieces of candy and coloured paper. How easy would it be to find the prey in a the laundry basket filled with coloured paper? This was a creative way for the boys to see how difficult it would be to be a predator to prey that is similarly coloured to its habitat and surroundings. And how fun that their "prey" happened to be candy!
The notebooking journal contains a wealth of activities, including crossword puzzles, copy work, stickers and a place to document the experiments. It also lists supplemental books and movies to go along with each lesson.
We highly recommend this curriculum and are looking forward to continuing with the remainder of the material!
Click to read more reviews from the Schoolhouse Review Crew
Disclaimer:
I received a free copy of this product through the Schoolhouse Review Crew in exchange for my honest review. I was not required to write a positive review nor was I compensated in any other way. All opinions I have expressed are my own or those of my family. I am disclosing this in accordance with the FTC Regulations.