I was recently given the opportunity to review logic curriculum from Classical Academic Press. Who is Classical Academic Press, you may ask? Here is the About Page from their website:
Classical Academic Press is an educational publishing company located near Harrisburg, Pennsylvania. The Press is the product of years of brainstorming, conversations, thoughtful critiques and classroom application. Our mission is to produce and supply the finest classical curricula to the market today.
Our motto "Classical Subjects Creatively Taught", describes the essence of all that we publish. We seek to produce classical curricula and media with a clear design and structure, incremental and systematic instruction, all with a touch of delight, creativity and flair.
The logo of Classical Academic Press features the image of an aqueduct, which in Roman civilization provided water to towns, villages and cities throughout the empire. We have chosen the aqueduct to symbolize our company's goal of bridging the old and the new, by reviving the tried-and-true with fresh imagery, technology, and accessibility, and by bringing the life-giving wisdom of the ancient world to the thirsty soul of our own modern culture.
They offer many products, including Latin, Spanish, Greek, French, Logic, Bible, Poetry and Art. This is the first opportunity we have had to review any of their products, and I am impressed.
Austin, grade 7, and I reviewed The Discovery of Deduction: An Introduction to Formal Logic and
The Discovery of Deduction Teacher's Edition. This curriculum is listed for Grades 8 and up and is $26.95 for the student book and $29.95 for the teacher's edition, which I recommend buying unless you are well-versed in formal logic.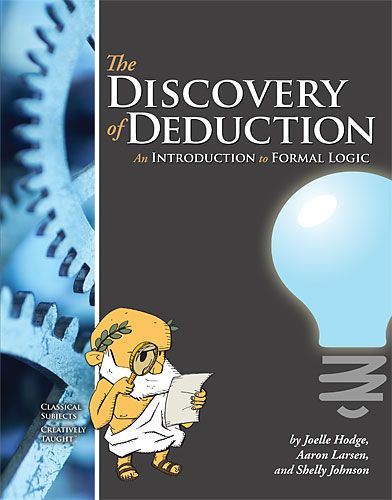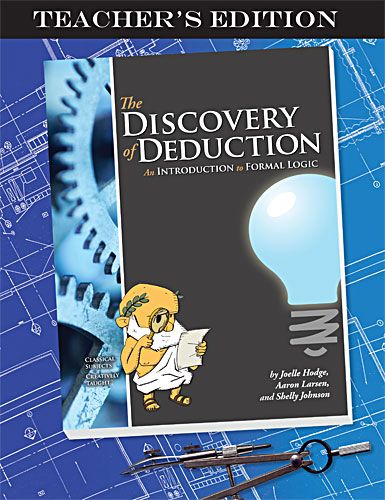 The student book is a thick one, with nine chapters, multiple lessons in each chapter, and a total of 324 pages. This also includes
five sections in the Appendices, plus Endnotes, Glossary and Bibliography sections.
The chapter titles are, as follows:
Introduction to Formal Logic
A Brief History of Logic
Formal Logic and the Three Acts of the Mind
Translating Propositions into Categorical Form
Relationships of Opposition
Relationships of Equivalence
The Syllogism Introduced
Determining the Validity of Syllogisms
Definitions and Disagreements
The teacher's manual contains all of the student text, the answer keys, teaching tips, and sample essays, dialogues and arguments.
Here is a sample of one of the pages from the lessons:
You can view more sample pages
here
.
Each lesson contains points to remember, quotes, vocabulary, explanation of ideas, exercises and graphics. There is a dialogue section in most of the chapters, where Socrates has a conversation with Nate, a university student, in which they "flesh out" the ideas a little more and in more understandable examples, which I think helps bring the vocabulary and material back down to real life.
I have read the lessons with Austin and discussed the answers to the questions he has been given to answer. In addition, he has taken his student book and done some of the lessons on his own, without my assistance.
I had originally thought that he would really enjoy going through this book, as he has worked on Logic in past years and has asked for more of the same. This, unfortunately, is a little above his level, but he is pressing through.
The suggested schedule, found here, was moving a bit too quickly for us, so we have slowed things down considerably. I will continue doing the lessons with him until he feels more comfortable on his own. I am enjoying what I am learning, along with him, and believe that it is important to teach our children how to think through and be able to communicate beliefs, issues, philosophies, and ideas, especially in light of God's Word. I have always been a huge proponent of teaching my children to think for themselves. It seems like it is somewhat rare in our day, and becoming more so, therefore, all the more reason to equip them with these tools.
If you are interested in reading more reviews on these and other Classical Academic Press products, click the banner below.