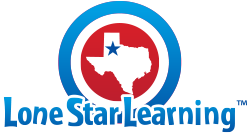 Lone Star Learning is a company in Texas which offers educational products for teachers. Their products include materials for math, reading and science, for Kindergarten through Grade 8. We were offered their
Science Vocabulary Pictures, Set 1
, which are vocabulary flashcards and the cost is $29.99.
There are 40 cards in this set. They are high-quality, sturdy, colourful cards. I wasn't doing a science curriculum that used any of these words, so during lunch a couple of times per week we played a "can you define this word?" game. I used this with all five of my children, even my high school age student, just for fun. I would start with the person on my left and go around the table until someone could give the correct definition. We had a good time. For some it was recalling information they had learned in the past, for others it was brand new information and for some it was more of "oh, I know what it is, but how do I give a proper definition?". It was a great exercise!
I will note that the definitions are not on the back of the cards. I was a little disappointed in this, although I can see that it would be easy to use this as a concentration/memory type game, if you were to make your own definition cards to go along. There is a sheet of paper that accompanies the card set with a definition list.
These are the words included in this set:
blizzard
carnivore
Celsius
condensation
conductor
conglomerate
conifer
deciduous
evaporation
fall
fern
fibrous root
flood
friction
load – fulcrum
gear
gravity
herbivore
igneous
inclined plane
inherited
lever
magnetic
mammal
metamorphic
moss
permeable
precipitation
pulley
reptile
sedimentary
spring
stretch
summer
symmetry
taproot
turn
wedge
wheel
winter
(Ava wasn't feeling well on this day and didn't join us for the game.)
I also wanted to give extra kudos to the Lone Star Learning Company. I was accidentally sent the wrong set of cards at first, but instead of requiring me to return the wrong set before getting the correct set, they also sent the right set and allowed me to keep both. The second set I received was Target Vocabulary Pictures, Set 1. I look forward to using these math vocabulary cards in the future. Thank you, Lone Star Learning!
To read other reviews, click the banner below.

Disclaimer:
I received a free copy of this product through the Schoolhouse Review Crew in exchange for my honest review. I was not required to write a positive review nor was I compensated in any other way. All opinions I have expressed are my own or those of my family. I am disclosing this in accordance with the FTC Regulations.