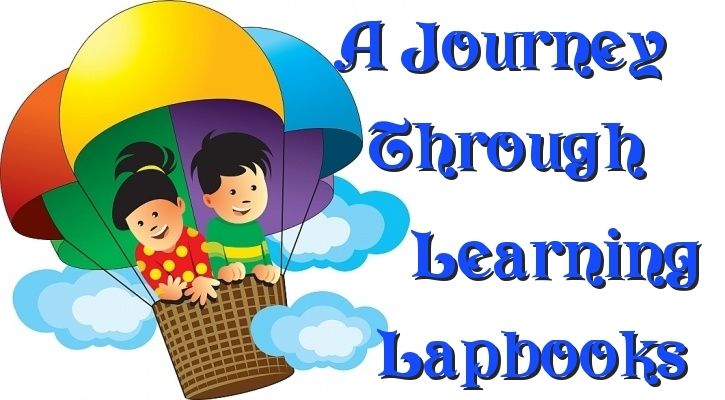 I was recently given the opportunity to review a lapbook from A Journey Through Learning, a company which produces a multitude of lapbooks in just about every possible subject. The company is co-owned by homeschool moms, Nancy and Paula.
So first of all, if you are not a homeschool mom or are new to homeschooling, you may be asking "what on earth is a lapbook?" Great question! Here is a definition (yes, from Wikipedia!):
A lap book generally consists of a paperboard

folder such as a file folder with small pieces of folded paper glued inside. These folded papers may contain facts, diagrams, illustrations,

etc. related to the subject. Lap books can be adapted for any subject and grade level. Teachers and parents who use lap books with students say that they enhance creativity and critical thinking while integrating subjects such as science, language, history, geography, and mathematics, depending on the subject of the lap book.
You can go to the How To Videos on the A Journey Through Learning site for several visual demonstrations of the materials needed and how to make the two types of folders needed for their products. I am not a lapbooking homeschool mom, so as you will see, we did not use the typical folders with our "lapbooks". We used scrapbooks, which is my preferred method. (You could also use the notebooking method.)
Here is a list of the supplies needed, in addition to the lapbook pages:
3 Colored File Folders
Scissors
Glue
Stapler
Brads (not needed for every lapbook. If brads are not available, a stapler will do.)
Hole Puncher (again, not needed for every lapbook.)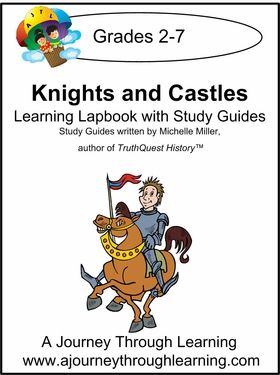 We chose to go through the Knights, Castles Lapbook to go along with a book from our literature-based studies. I went through this unit with my children who are in grade 5 and grade 2, and I also included my grade 1 student because she loves this kind of learning. The recommended age range is grades 2-7. We received the instant download version, which was easy to download and print. I, obviously, needed three of each page of the templates and activities. I only needed one copy of the text that contains the history lesson. This was a tiny bit time consuming, but not a drawback, in my opinion.
The lesson titles include:
The Fall of Rome Paves the Way to the Middle Ages
A Knight Dresses for Battle
Castles-From Dirt Pile to Dignified
Lifestyle During the Middle Ages - Work, Eat, and Work Some More
Housing During the Middle Ages
Christianity During the Middle Ages
The lessons were informative and included history, vocabulary, a tiny bit of geography, and interesting facts, i.e. a helm could weigh up to 13-14 pounds! Ouch.
In these photos you can see how we utilized our scrapbooks . . .
We used this product about four days per week. I would read the lessons, which were only one to two pages in length, aloud to my children. I would then help them cut out the templates, answer the questions and glue them into their scrapbooks. The youngest, especially, needed my help with cutting and knowing what to write on her pages, but my grade 5 student could probably have accomplished this on his own, if necessary. He even took one of the lessons and read it aloud to his sisters, first in an English and then in a Texas accent. Very fun and lots of giggling from the girls during that lesson!
One of our favourite lessons was the one on heraldry. The children had the opportunity to design their own coat of arms. I learned that women typically had a certain design, called a lozenge, on their coat of arms. My girls did not stick to that rule for the 21st century, but I still found it interesting. Here are their designs . . .
Benjamin's coat of arms:
Ava's coat of arms:
Maya's coat of arms (upside down):
We had fun with this unity study and recommend it to anyone who wants a supplemental resource for studying the Middle Ages.
The prices are as follows:
Instant download: $13.00
CD: $14.00, plus shipping
Printed: $21.00, plus shipping
Next, I think we will go through The Earth Lapbook (grades 1-4).
Also check out Letters, Numbers and Shapes (ages 3-5) or Astronomy and Space (grades 2-7)!