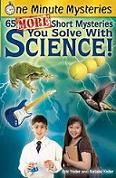 One Minute Mysteries: 65 MORE Short Mysteries You Solve With Science! was sent to me for review by Science, Naturally and has
been a fun and interesting book to read with my children. We were not familiar with this company or the first book in the series called One Minute Mysteries: 65 Mysteries You Solve With Science!, which we hope to read, too, at some point.
These books are written by father-daughter team, Eric Yoder and Natalie Yoder.
The age range for this book is 8-12 and it is 180 pages in length. The cost of this book is only $9.95 and can be purchased from Science, Naturally. They also have some great educational resources on their website, including iPhone/iPad/iPod apps, found here.
The book is divided into six sections:
* Introductions
* Life Science
* Earth and Space Science
* Physical and Chemical Science
* General Science
* Five More Minutes of Mysteries
and
* Bonus Section: One Minute Mysteries: 65 Short Mysteries You Solve With Math!
The chapters in
One Minute Mysteries: 65 More Short Mysteries You Solve With Science!
are one page
scenarios, in which a science question or "mystery" is presented. The second page of the chapter gives the answer to the question.
We read these brainteasers during our lunchtime read aloud sessions, which included all five of my children, ages 6, 8, 10, 13 and 16. Emma (16) was actually the reader to the rest of us.
It was important to listen to all the details given in the short story to be able to figure out the mystery.
Some of the mysteries were simple to solve for my older children, but it was fun to let the two younger girls try to figure out the answer before letting one of the older children explain it to them. A couple of the chapters stumped everyone until we talked through what details to consider.
We had an enjoyable time reading these science-lessons-in-disguise. I love this kind of gentle and engaging learning. There were no textbooks, just real life situations that we can relate to on a daily basis. One of the lessons that stumped some of us for a few minutes was Chapter 49 titled "Science Friction". The story involves a science class which was divided into three groups, and then given the assignment to make one movie poster per group in a science fiction style but with accuracy in the basic science facts. The posters are described, along with the titles given. We had to remember that insects do not include spiders (which are arachnids), the south pole would not contain an octopus (this one stumped us), and bats are mammals which fly and ostriches and penguins are birds that do not fly (easy one for my animal and bird lovers). We enjoyed talking it through to pick the winning poster!
Our family recommends this unique and fun science resource for any home with science students.
(We even took this book of sleuth-building exercises on a recent picnic!)
To read what other families thought of this book, click the banner below: