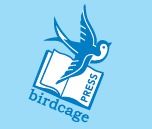 Does your family enjoy a rousing game of cards? How about Go Fish? Concentration? Or Old Maid? We have played many card games over the years and enjoy the time together as a family, as well as the good, old-fashioned fun that a card game produces. We were recently introduced to

Birdcage Press

and given the opportunity to review their card game and book set entitled,

Wild Cards: Backyard Birds.
Birdcage Press is a company founded by
Wenda O'Reilly who created the cards, along with her children, for all ages to enjoy. Her games are featured in art museums throughout the world. They offer a wide range of games in several categories, including art, wildlife and nature, air and space, and history.
The set we received for review,
Wild Cards: Backyard Birds
, comes in a sturdy case, with 36 playing cards and a 32 page fact book. This set is intended for ages 6+ and sells for $10.95.
The book gives ways to identify birds in your own garden, gives the categories of the cards (Tricksters, Songbirds, Woodpeckers, Hummers, Little Chirpers and Waterbirds), shows an Icon Guide, a Map Guide and then has one page of information per bird that is featured on the cards. In the back of the book are Game Rules for "Old Trickster" (a.k.a. Old Maid), Bird Memory (a.k.a. Concentration) and Go Fish for Birds.
We love birds and birdwatching. We were so blessed to learn so much about birds when we lived in Canada. We had many birds come to our backyard feeder, as well as come and eat from our hands when we would hike certain trails in Ontario. Now that we are in Virginia, we are delighted to have not only some of the same, but also many different backyard birds here, too! It's been interesting to compare our birds list with the cards to find out which backyard birds we still have yet to see in person.
We have enjoyed multiple sessions of fun with these beautiful and sturdy cards. We've played Go Fish over and over. We have also introduced the little girls to the game of Old Maid/Old Trickster. They request that every time we play now!
Bob was even able to get in on the fun one day when he was home!
I have my eye on several of the other Birdcage Press card sets, including Close Up: National Gallery of Art,
Go Fish for
Impressionist Artists, Battle Cards: Military Jets and 52 Amazing Places: National Parks! We recommend this company and their delightful products for any card-playing family!
To read what other homeschool families think about Birdcage Press products, click the banner below: