Even though I took Latin classes in high school and in university, I have never purchased a Latin curriculum for my homeschool. I know the value of having a Latin background, but when in Canada, my older three children were involved in French classes and then branched out to other languages of their choosing. My younger ones have also been interested in different languages, and thus, I just haven't put much thought into having any of them learn Latin. Until now . . .
I was given the opportunity to participate in a review of
Prima Latin
by
Memoria Press
, which is written for students in grades 2-4. I received the complete set (retail value: $90.90), which includes the following:
Student Book

Teacher Manual

Pronunciation CD

Instructional DVDs (a total of 9 hours of instruction)

Flashcards
This is a wonderful resource for getting started in Latin. I have had my Ava (age 8) using this material. She was thrilled to have her own "new language" to learn, although she has been learning a bit of French, as well. The way the program is set up is clear and straight-forward. Several times per week, we watched the instructional DVD, worked on the exercises in the student manual and reviewed the flashcards. There are 25 lessons and each lesson is only four pages in length. There are over 200 flashcards!
The set of flashcards alone is a wonderful resource.
I wasn't sure if the exercises would be too overwhelming for Ava, who is improving in her reading but is not yet a strong writer. She did get frustrated a couple of times but I think amount of work is just about right. I do appreciate that each lesson only contains only 5 or so vocabulary words. It is just the right amount of new information, with plenty of repetition.
One thing I want to note (it is the only drawback to this program and a minor one, in my opinion). If you are not from the southern part of the United States, you may find the pronunciation a little off-putting (unless you love a slight southern drawl!). There is not one thing wrong with it, it just threw us off for the first few lessons. After we had viewed several lessons, it was not a big deal. And I am glad we have the DVD lessons to practice the pronunciation, since I am a little rusty.
We have not used the CD for extra practice, although I have plans to do so. I want to get a portable CD player so that Ava can listen to it in the mornings when she is up early (she is our early bird). She could use headphones and get in a little more practice, without waking up all the sleeping siblings.
One of my favourite parts of the program are the Latin prayers we are learning. Here is the first one, called The Sanctus:
Sanctus, Sanctus, Sanctus
Dominus Deus Sabaoth
Pleni sunt caeli et terra gloria Tua.
Hosana in excelsis.
Benedictus qui venit in nomine Domini.
Hosanna in excelsis.
Holy, Holy, Holy
Lord God of Hosts.
Heaven and earth are full of Your glory.
Hosanna in the highest.
Blessed is he who comes in the name of the Lord.
Hosanna in the highest.
Click
HERE
to view a sample lesson.
If you are having doubts about adding Latin to your homeschool set, click HERE to read a short article.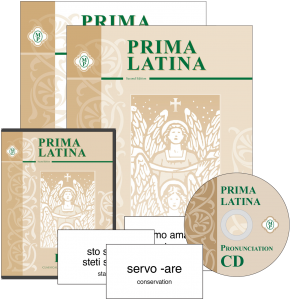 To read what other families thought of Prima Latina or Memoria Press' Geography curriculum, click the banner below . . .