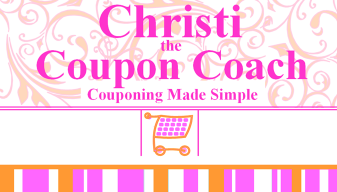 If you have read my blog very long, you know that I am trying many different avenues not only to save my family money but also to get the most from the money we make. I have sold clothing, books and jewelry (I didn't blog about the jewelry as it was too painful). I shop sales and have used coupons, as well as store loyalty cards. I have started shopping at Aldi, which saves me money (but due to their already low prices, they do not accept coupons). When I do shop the regular stores, I normally buy store brand/generic items for most things. I regularly read several coupon-focused blogs, and I am a member of my local Freecycle group.
When I was given the opportunity to review
Couponing Made Simple
by
Christi the Coupon Coach
, I jumped on it. I am always open to learning from others who have found a system that works for them. I also enjoy reading other people's stories and learning about their lives. I believe it makes my life so much richer and broadens my horizons.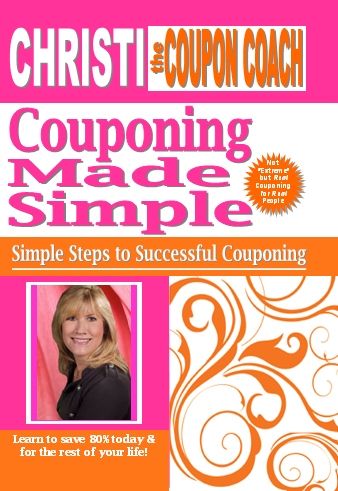 Christi Bassford, a.k.a. The Coupon Coach, states in her introduction,
This is not "extreme" couponing, but real couponing for real people. This is not about having 100 boxes of cereal or 540 rolls of toilet paper stored in your home, but this is about buying a reasonable amount of items at the lowest prices for your family to use until the next sale cycle comes around.
Christi is a wife and the mother of four children, and she educates her children at home. She does not have hours and hours to devote to extreme couponing, so I knew right away that she could offer some sound advice. Here are the chapter titles:
3. The Language of Couponing
8. Networking and Communicating
Christi's two main rules for couponing are: 1. Buy on sale, and 2. Stack coupons. The buy on sale part I have down pretty well, it's the stacking that was new to me. Christi goes into detail about where to find coupons and how to combine sales and stacking. She starts with her Sunday paper and buys one copy for each member of her family. I did that one Sunday in my little town with one newspaper, which cost me $2.50. At this point in our financial situation, all I could think about was "That could buy a gallon of milk!" Since there are 7 of us, I just cannot justify $17.50 for newspapers. Yikes. So, I have stuck with printing out the coupons I hope to use and getting others in magazines (which I subscribe to free of charge!) or in samples that I request. I do think Christi's system is simple and brilliant, and I hope to work my way there when our finances are more stable.
One big thing I learned from Christi's encouragement is to check out drugstore sales. We have a fairly new Walgreens in our area, and I had not shopped there at all. I started paying attention to the Walgreens sections of the coupon blogs I follow and to the store flyer that comes each week. A few weeks ago I was almost out of laundry detergent. I noticed that Walgreens was having a great sale of Buy One Get TWO Free and the one that I paid for was also on sale. So instead of $5.79 each, I paid $5.49 for all three! That's a great deal! I am keeping my eye on Walgreens and which coupons I can stack with the weekly sale items, plus I am utilizing the sale booklets they provide in store each month.
Couponing Made Simple is a wonderful tool for any household, whether you are a veteran couponer or have only wondered if coupons were really worth your time. Christi has done a fabulous job of putting her experience and expertise into this easy to read book that can give you some extra ideas for saving money or get you started with clipping your very first coupon. I highly recommend it and am hoping to get to the point where, like Christi, I can save 80% on a regular basis!
While Christi does not mention any specific coupon or savings websites in her book due to the ever-changing Internet, you can see her favourites here.
You can also connect with Christi on
Facebook
!
Read what others on the Review Crew thought by clicking the banner below: