I received
25 Truths: Life Principles of the Happiest and Most Successful Among Us
from Ed Douglas Publications for review. This book was offered for grades 6-12, and beyond. The paperback is listed at a price of $15.50.
Mr. Douglas was with a bank for almost thirty-two years, which included the positions of president and CEO. He is the author of Making A Million With Only $2000 and The Money Marathon: 7 Simple Steps to Financial Freedom.
He is a Certified Financial Planner and currently operates Ed Douglas Certified Financial Planning/Consulting. In 25 Truths, Mr. Douglas
uses his own personal experience, along with scripture and inspiring quotes, to share his 25 essential truths that, if followed, can lead to a happy and fulfilling life.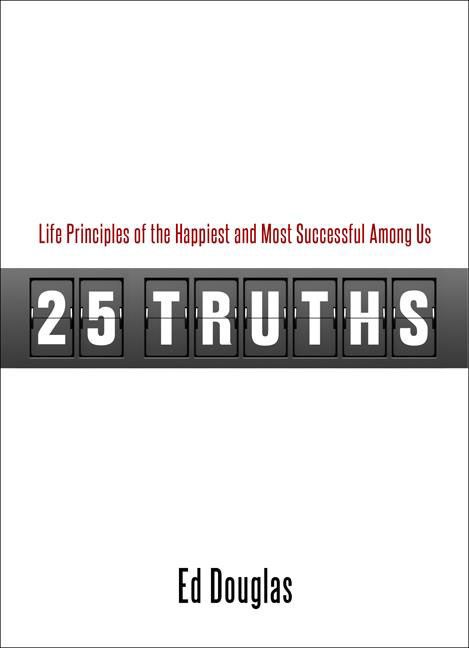 The truths presented in this book are arranged in short chapters, just 3-5 pages each, which include several questions for each truth. Mr. Douglas originally wrote a list of 25 things he wished he had known earlier in life and that he wanted to pass down to his children and grandchildren. Later, he began to share these truths with the students on the high school tennis team that he coached, and the father of one of the team members encouraged him to publish them in a book. This book was not intended to replace any Biblical truths, but rather is based on those truths and will help one learn to lead a happy, more-fulfilling life. It can be used in school classrooms, locker rooms, Sunday school classes, Bible studies or simply around the dinner table each evening.
These concepts are mainly common sense, but I appreciate having them in one compilation.
Here are some of the truths:
Watch What You Say, Do, and Write
Be Quick to Apologize
Utilize Compound Interest: The Eighth Wonder of the World
See the Glass as Half Full
Set Goals and Write Them Down
Make a Difference in the World
I asked my 13 year old son to read this book on his own. Here are his thoughts:
Overall, I enjoyed it. One of my favourite sections was "Protect Your Reputation" because a good reputation takes a long time to build. It's worth protecting. I enjoyed reading the story regarding Mr. Douglas being quoted incorrectly by a reporter. Because of his good reputation, in the end, he was able to clear up the matter and was believed. Another good section was "

Take it One Step at a Time"

because everyone seems to be in such a rush these days. Things don't go well when we are in a rush, and we do not enjoy life as much.

I also liked "See the Glass as Half Full" and already practice it in my life. There are many grumpy people in the world. If we see what the best outcome could be and try to reach that, our lives could be a lot better.
I will also make this available to my older daughter to read soon and for my younger children to read when they are ready. This book is applicable for any family, homeschooling or otherwise. The truths are relevant to everyone.
To see what other families thought of 25 Truths, click the banner below: