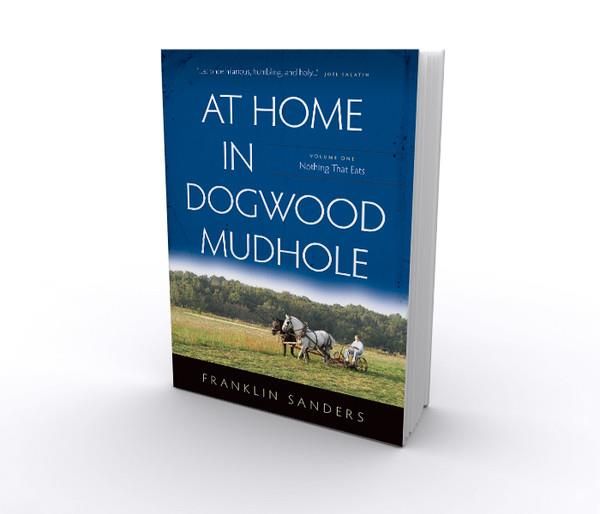 For my last review of 2013 with the TOS Review Crew, I was given a paperback copy of At Home In Dogwood Mudhole: Volume One Nothing That Eats by Franklin Sanders. I honestly didn't know what to expect from this book except it was about a family who moved to the country to pursue an agrarian lifestyle. I love reading other peoples stories. People are fascinating. Their stories are interesting, entertaining, encouraging, endearing, and sometimes downright funny. This book can be described by all those words and more.
This is the first of the three volume series. The next two books are
Volume Two: Best Thing We Ever Did
and
Volume Three: The Sage of Dogwood Mudhole
(not yet released)
.
You can find sample chapters from Volumes 1 and 2
HERE
.
From the Website:
When Y2K looms and modern life fails to satisfy, Franklin Sanders and wife Susan go from nuclear family to multigenerational farm. Despite Susan's admonition that they acquire nothing that eats, they gain dogs, chickens, horses, cows, pigs, ducks and sheep. Their children move back in and bring their spouses, filling Dogwood Mudhole with grandchildren. It's no Green Acres, but through sheer persistence and good humor, they learn to farm. At Home in Dogwood Mudhole, a three-volume collection of letters, provides a running account of an attempt to live an authentic life, as Franklin writes every month for seventeen years a personal letter to his The Moneychanger newsletter readers.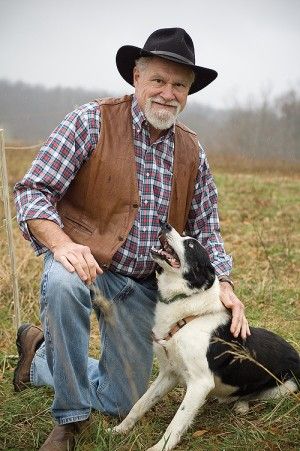 My thoughts:
I read other people's stories because I find them engaging and absorbing and this was no exception. At first I was a little thrown off (not in a bad way) by the format. I knew it was a story about the Sanders family, Southern through and through, and how they moved to the country before Y2K (everyone remembers what Y2K was, right?). I had expected more of a memoir type of book, but this is not like that at all. The book was compiled from Mr. Sanders' newsletters, which were written between June 1995 and September 2002. So instead of fluid chapters, you have small snippets of Mr. Sanders life, written as it was happening, which I found enjoyable. I can pick it up for a few minutes or a few hours at a time. (I'm not quite to the end, as it is 379 pages, and life has been busy.)
I also read other people's stories to learn something new. Each of us has a unique experience and journey and I guarantee I can learn something every time I read about or have a conversation with someone. I may not agree with every opinion they have, but I can learn something of value. This time was no exception. Not only did I learn that there is an actual place in Tennessee called Dogwood Mudhole, but I also learned a new vocabulary word or two, one of those being "uxorious" which means "excessively attached to or dependent on one's wife". Mr. Sanders described himself with this word and I think it is a beautiful thing for a man devoted to his wife to use such a term. I even learned a new Christmas song, one that Mr. Sanders mentions in his chapter, "A Cure for Bellyache."
Here it is. Have you heard it before?
Other enjoyable aspects of Mr. Sanders' writing are his inclusion of his faith, specific Scriptures, his devotion and love of his family, as well as recommended restaurants, inns, museums, and family-run businesses that he has personally visited all over the South. Think Southern Living magazine meets Diners, Drive-Ins and Dives!
A few of my favourite Franklin Sanders quotes:
Now a tradition is not a rut. A rut is doing the same things year after year because you don't have enough imagination to do anything new. A tradition is something you do once and discover a joy so deep that you do it again, Christmas after Christmas, to keep on savoring it and make it last. p.23
... but motherhood gives us a unique example of Christian service. By submitting to motherhood completely, a woman is completed. She faces the terrors of death itself in childbirth, and afterward demands so great they seem utterly impossible, but God gives her grace upon grace as she needs it. The greater her burdens, the greater his grace, and the greater her completion. p.110
You can drive across the South, indeed, across America, and you'll hardly be able to tell Charleston from Dallas unless you venture far, far off the expressway. The malls and shopping centers and subdivisions are all identical. It may be success, but it sure is boring. p.162
If you enjoy Southern, real-life stories, I recommend this book for your next reading selection.
Pricing:
Volume One: Nothing That Eats: $22.95-paperback, $16.95-Kindle/Pub/PDF
Volume Two: Best Thing We Ever Did: $22.95-paperback, $
16.95-Kindle/Pub/PDF
To read more Review Crew opinions of this book, click the banner below.